Happy New Year to all our customers and friends. We are working hard to prepare the website and the catalog for the 2022 iris season. We have started debuting the new introductions on the Mid-America Garden facebook page. We are also unveiling them here on the website at the same time. We have added new introduction categories for the medians of each hybridizer. Everything on the website is currently marked out of stock and they will remain that way until we open the website for sales sometime in January. At that time everything on this site will be available.

For those of us in the northern hemisphere, irises seem like a long time ago and a long time from now, so we are very excited to share with you some exciting "right now" news. You can now purchase apparel and gift items featuring your favorite Iris nursery, Mid-America Garden. Click the banner below to go to the store (link will open in new window), and use the menus (upper right on computer, upper left on mobile device) to narrow it down by category for easy shopping!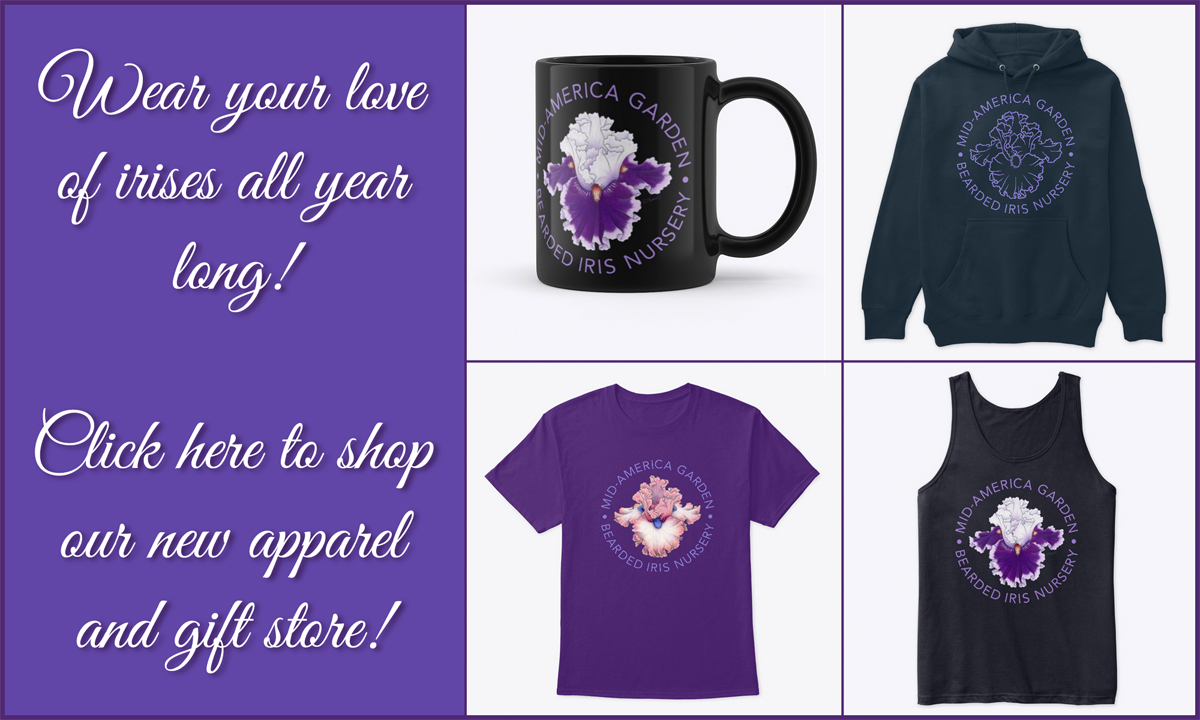 If you are trying to contact us, email is best as Thomas is outside working in the fields during the day and is not in the office until after dark. We try to respond to emails promptly.
email:
thomasjohnson@mid-americagarden.com
It would be a good idea to add this email address to your contacts if communicating with us to prevent any communications from Thomas or Mid-America Garden from going to your spam folder.
Updated December 9, 2021


Special Offer


Purchase any 3-5 introductions any class and receive a 20% discount
Purchase any 6-11 Introductions any class and receive a 25% discount
Purchase 12 or more introductions any class & receive a 30% discount