Mid-America Garden came into being in 1981 in Oklahoma City, Oklahoma. It was a product of Paul Black's love for plants, and wanting to find a hardy perennial for a particular place in his yard. That hardy perennial turned out to be irises. He first became acquainted with irises on one of numerous trips to see his Grandmother Black. His quest for irises like she had, led him to a rhizome sale of the local iris society and to becoming a member of that society. This event eventually led to the formation of Mid-America Garden and triggered major changes in his life..
In 1993, a major catastrophe occurred. Continuous rains through a hot Oklahoma summer promoted a devastating and unstoppable epidemic of soft rot. The next several years were not kind to Mid-America Garden. In 1994, Thomas Johnson from Alberta, Canada decided to move to Oklahoma and become a part of Mid-America Garden. After a couple more years of major problems and loss of commercial and hybridizing stock, Thomas and Paul decided to move the business to Oregon and to what is considered Iris Mecca – and it is.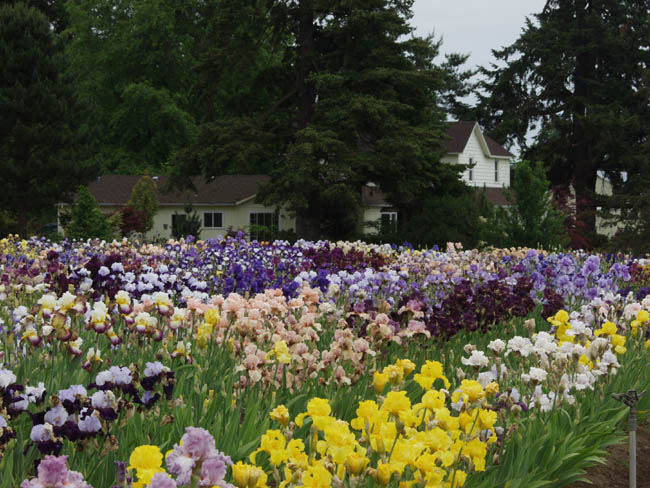 House and Iris Bloom, May 2004
The move to Oregon in 1998 was extremely stressful, but it has been well worth it. Business is thriving and growing. Our hybrid work is progressing in a way that it was never able to in Oklahoma, and that is reflected in the recognition and awards that the work is receiving.
Thomas purchased Paul's share of Mid-America Garden at the end of 2011, when Paul retired. Paul is no longer involved in the business, but has continued to make crosses and selections here at Mid-America Garden. Thomas grows Paul's seedlings and introduces them and runs the nursery with the help of his hardworking employee Carlos. Thomas also co-owns and runs Sebright Gardens with his partner Kirk Hansen.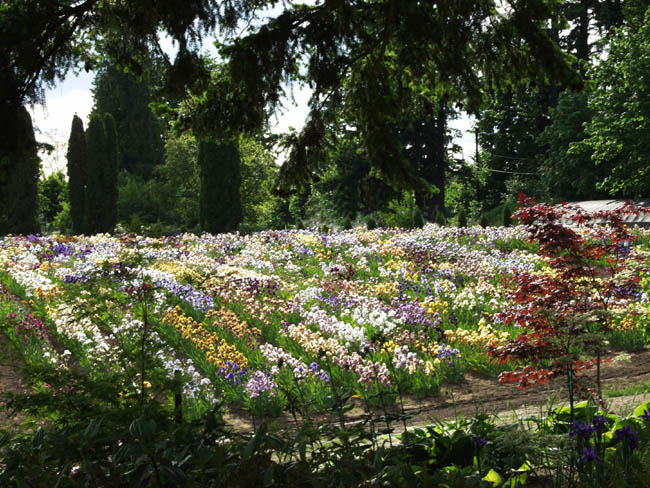 Iris Bloom & Arborvitae 5/02

Many years of hard work have gone into making Mid-America Garden a delight for visitors, and we are still making changes and adding more new plants. Please come and share the beauty that surrounds us. Until you can do that, here are a few pictures to enable you to go on a "virtual" trip to Mid-America Garden and Husky Land.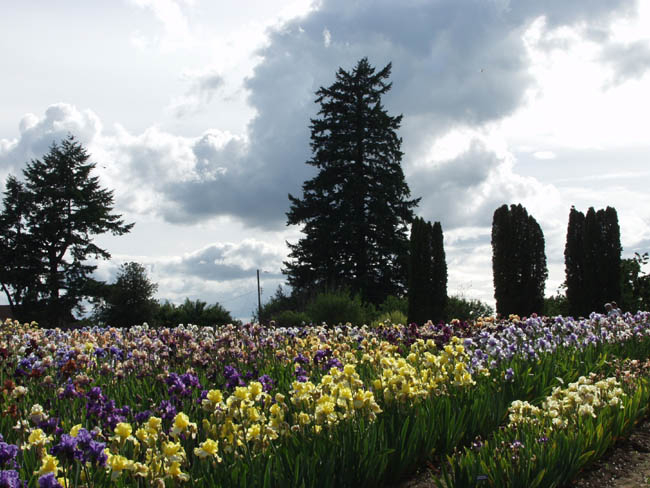 Iris bloom May 2002