The website is now open for 2022 sales for delivery in July and August 2022. The new 2022 printed catalogue mailed out bulk rate on March 11. If you are a domestic customer and have ordered from us in either of the last two years you will automatically receive one. If you are a foreign customer including Canada the catalogues can be purchased on the website. Canada $12 and all other countries $20. If you are a new customer and live in the USA you can also purchase a catalogue for $12. At 96 pages plus cover, the catalogue will be our largest to date. It is a full color catalogue featuring over 1000 color photos. We have provided a link below if you wish to download a copy of our print catalogue. The file is large so it may take a while to download.

You can now purchase apparel and gift items featuring your favorite Iris nursery, Mid-America Garden. Click the banner below to go to the store (link will open in new window), and use the menus (upper right on computer, upper left on mobile device) to narrow it down by category for easy shopping!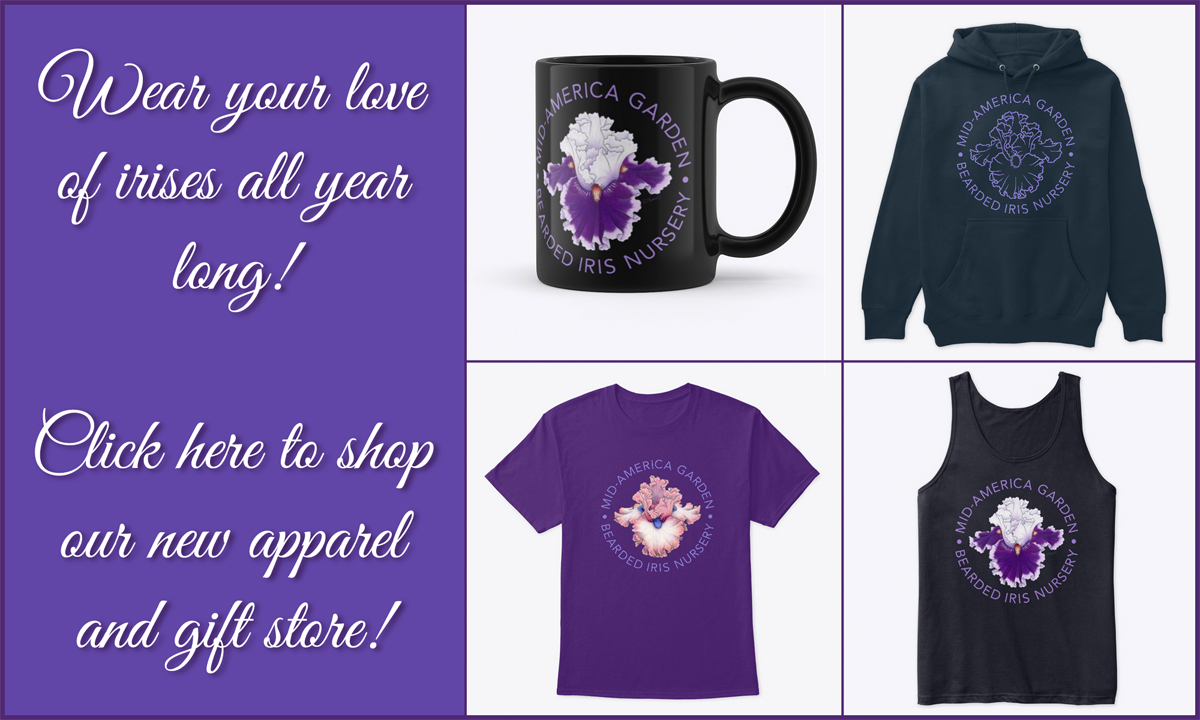 If you are trying to contact us, email is best as Thomas is outside working in the fields during the day and is not in the office until after dark. We try to respond to emails promptly.
email:
thomasjohnson@mid-americagarden.com
It would be a good idea to add this email address to your contacts if communicating with us to prevent any communications from Thomas or Mid-America Garden from going to your spam folder.
Updated March 14, 2022

Click here to down load a copy of our 2022 print catalogue. This is a lower resolution file for faster download.


Special Offer


Purchase any 3-5 2022 introductions any class and receive a 20% discount
Purchase any 6-11 2022 Introductions any class and receive a 25% discount
Purchase 12 or more 2022 introductions any class & receive a 30% discount
Discounts applies only on 2022 introductions